Post by likhos on Oct 31, 2012 16:56:22 GMT -5
aaaah, the sweet smell of party in the evening.
You know what I like more than fighting my way through hundred of orks at the opening of the dakka store?
Going to the warp-pub to drink bloody bear with my buddies.
Let's the party begins!
first ones are the plaguebearer who will be commanded by Gar'snikk who was an ork before catching the nurgle's rot.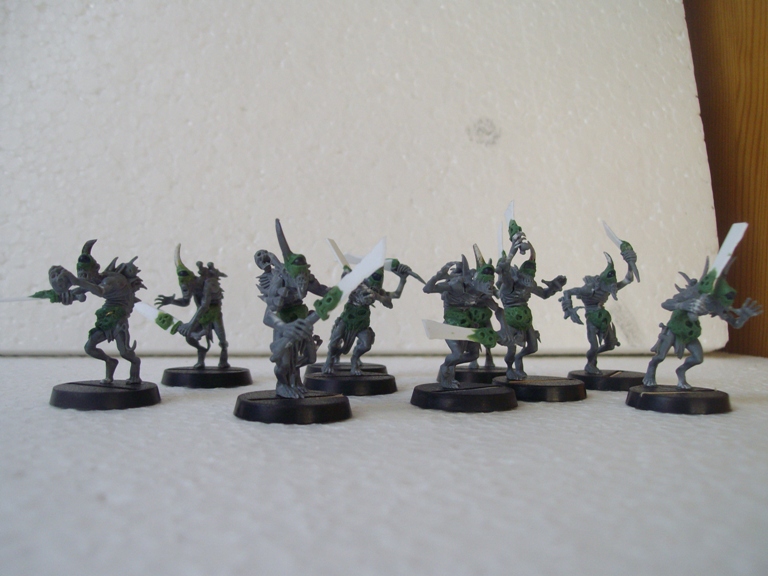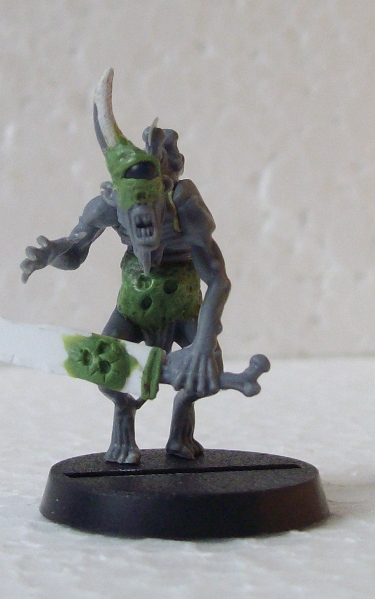 Thoses guys were made before the actuals plague bearer.
painted:
yup, I should have used a white base coat.
Other nurgle servant, my pal Typhoid the rotten. he smell like shit but he crack some good jokes: (paint in progress, I got lazy and I didn't finish him)
His base coat is white, unlike the plaguebearers, I like the result so my nurgle servant will be painted like this.
I had some nurgle marines pictures but it seems only this one remain:
I forgot his name, considering the way he talk is gibberish I call him bleuargh. (that what he always say)
I'm not going to make a nexus joke, do it yourself.
You know what I also like? smashing zombies.
Those three pest went in the bar yesterday night, nothing remains of them now.
Enough of nurgle let's go to the less brained ones, the Khorny guys.
first squad, the bloodletters of Kan'arneth or "big ugly motherfucker" like I like to call him. not a very interresting guys since he can't understand most words (never mention killing, slaughter or carnage)
second squad: the bloodcrusher of Tan'rtorok, mostly a bunch of drunkard mounting juggernauts, they gave me a ride once.
Please take note that the Skulltaker will integrate those squads, when respectively on foot or on his juggernaut.
I also have a second squad of bloodletter, but I didn't paint them so no photos
for the big guy I have him: I don't really interact with daemonic engines so I've never been able to know him a lot.
note: his fleshy parts will be repainted and the khorne symbols suppressed.
I got more but I'll stop here for today.
feel free to kill me in the most atrocious manner imaginables, it'll only send me back to the warp for MOAR party.